Product Overview
5-IN-1 COLLAPSIBLE REFLECTOR DISC WITH HANDLE
Includes 5 Colors And Storage Bag
( Gold,Soft Gold,Silver,White,Translucent )
Size: 42" Inch - 107cm
The vivitar 42" 5 in 1 reflector disc with handle allows you to create endless combinations of lighting effects,the white reflector produces a neutral color.Which works well as a fill light,translucent fabric will diffuse the light,producing a soft portrait look.Increase hightlights and created a high-contrast image with the silver reflector.Gold is helpful for creating a warm.
Features
-42" reflector disc with handless
-Folds easily to store and transport
-Provides almost unlimited lighting possibilities
-Includeds carry case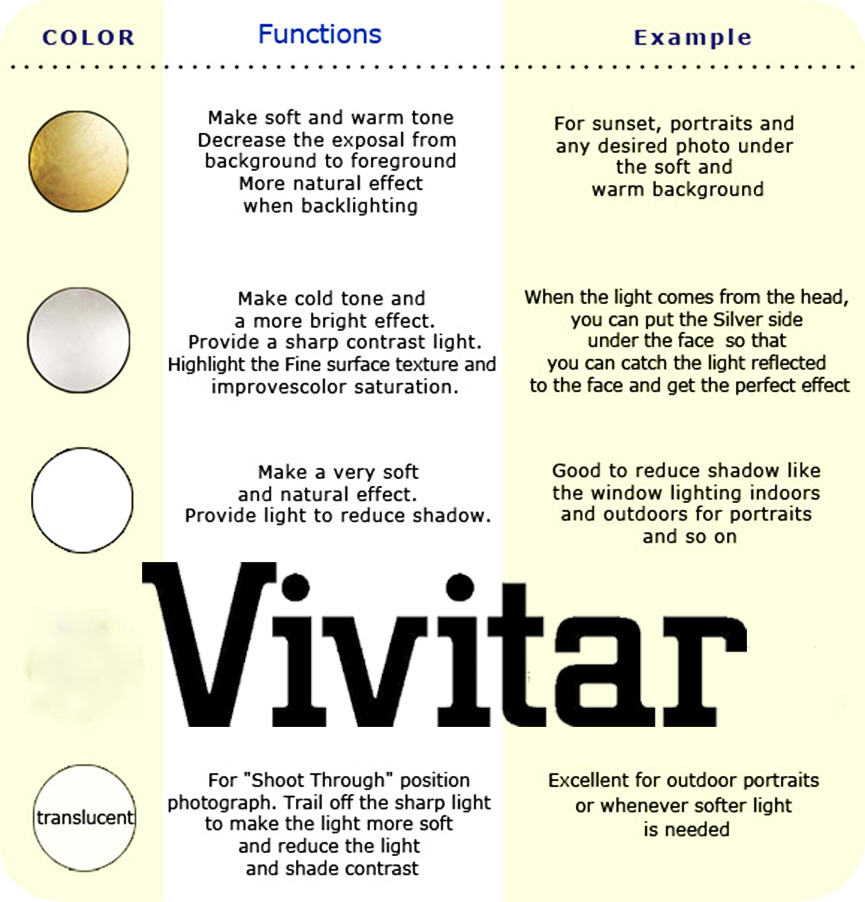 Contents:
5 in one Reflectors 42 Inches (107 cm.)
Color White, Silver, Gold, Soft Gold, Translucent.
Warranty Information
Vivitar Warranty - All our products carry a 1 year warranty from the date of purchase, no matter where it was purchased. This warranty covers the original consumer purchaser only and is not transferable. This warranty covers products that fail to function properly UNDER NORMAL USAGE, due to defects in material or workmanship. Your product will be repaired or replaced at no charge for parts or labor for a period of one year. What Is Not Covered by Warranty Damages or malfunctions not resulting from defects in material or workmanship and damages or malfunctions from other than normal use, including but limited to, repair by unauthorized parties, tampering, modification or accident. To Obtain Warranty Service and Troubleshooting Information: Call 1.800.592.9541 or email support@sakar.com. To receive warranty service along with the name and address of an authorized product service center, the original consumer purchaser must contact us for problem determination and service procedures. Proof of purchase in the form of a bill of sale or receipted invoice, evidencing that the product is within the applicable warranty period.
Reviews