Product Overview

!!! BRAND NEW !!!

TRAVEL CONVERTER
50 Watts
220 / 110V
FULL FACTORY WARRANTY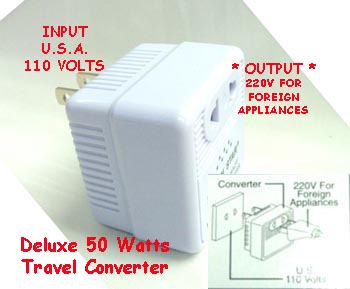 Description :
SMALL DELUXE TRAVEL CONVERTER 50 WATT
INPUT ( From The Wall ): AC 110V

U. S. A.

OUTPUT ( To Appliance ):AC 220V

Foreign
To use your 220V foreign made portable appliances in the United States, you need a converter to increase U. S. electricity up from 110v to 220v which is standard in most foreign countries.
Plug your appliance, rated 0 - 50 watts, into the Converter, then plug the Converter into a U. S. wall Outlet
DESIGN FOR
TO Be Used in U.S.A 110 VOLT
220/volt appliance
VIDEO CAMERA DIGITAL CAMERA SHAVER RADIO
WIRELESS PHONE CHARGER
CELLULAR PHONE & MORE
TO Be Used in U.S.A 110 VOLT
Contents :
One Small Deluxe Travel Converter 50 Watts
MONEY BACK GUARANTEE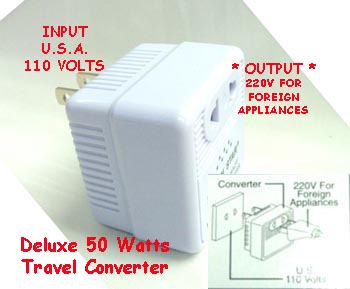 Reviews