Product Overview
Tenba Tools BYOB 9 Camera Insert
Color Gray
Model # 636-222
Made By Tenba
Capacity: DSLR or mirrorless camera with 2-4 lenses and accessories (up to attached 24-70mm 2.8)Tenba invites you to Bring Your Own Bag. We know that there are some great bags out there that aren't Tenba bags. From 95-liter trekking backpacks to designer women's handbags, there are a lot of bags that work well for one job, but don't do well at protecting camera gear. Tenba's BYOB inserts are the solution. They fit a variety of camera systems, with pockets to organize accessories, and their soft shells mold to fit the interior of virtually any bag. So keep using that backpack/courier/handbag/duffel that you love so much, and just give your camera the protection it needs with a Tenba BYOB insert.
Specifications
Weight
0.4 lbs
Exterior Dimensions
9"W X 6.5"H X 4"D in. (23 X 17 X 10 cm)
Interior Dimensions
8.5"W X 6"H X 3.5"D in. (22 X 15 X 9 cm)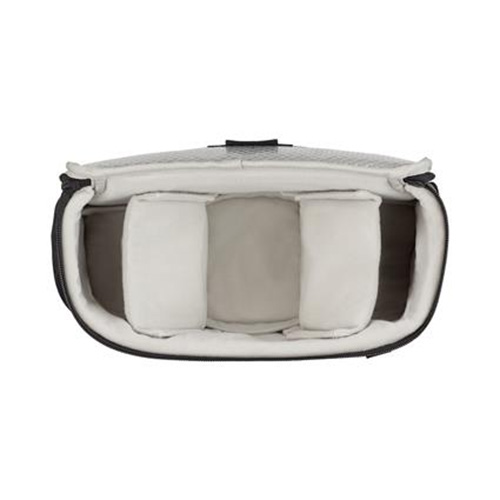 Features
- Designed to carry and protect a camera inside a larger backpack, suitcase or handbag, and soft shell easily molds to the shape of any carrying bag.
- Padded dividers are adjustable to fit multiple configurations, and soft brushed tricot lining is equipment-friendly.
- Zippered top cover can be folded back and stowed in rear pocket to allow quick access to camera gear.
- Stretchy mesh side pockets securely hold mobile phone, wallet and other accessories.
- D-ring to attach keys, carabiner or tethered media wallet.
- Interior zippered pocket secures money, change and other small items.
- Front and rear pockets for additional accessories.
- Exterior of water-repellant shadow ripstop nylon and durable YKK® zippers.
Warranty Information
Tenba Warranty - Mamiya America Corporation d/b/a Mac Group ("MAC Group") warrants that Tenba bags, except for Air Cases, Car Cases and Tripaks, will be free from manufacturing defects for five years from the date of purchase. MAC Group warrants that Air Cases, Car Cases and Tripaks will be free from manufacturing defects for one year from the date of purchase. This limited warranty applies only to Products that were purchased from MAC Group or a MAC Group authorized retailer, unless otherwise prohibited by law. MAC Group Products are legitimately sold only by authorized sellers who are required to follow MAC Group's policies, procedures, and quality control standards. MAC Group reserves the right to reject warranty claims from purchasers for Products purchased from unauthorized sellers, including unauthorized Internet sites. This limited warranty does not apply to any defects due to normal wear and tear, damage due to misuse, alteration to the product, improper handling or negligence. Tenba bags are made to perform and look great for years, but signs of normal wear are to be expected with any fabric product and are not covered by warranty.
Reviews